Aktiivkõlar RCF ART 310-A MK III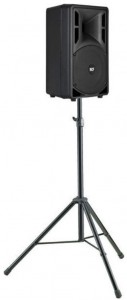 Nende kõlarite eeliseks on väga puhas ja tugev heli ning äärmine kompaktsus – üks kõlar kaalub 12,6 kg ning on mõõtmetega 54*34*32 cm. Üks kõlaripaar koos bassikõlariga täidab keskmise suurusega ja ka suurema saali selge ja tugeva heliga.
Allpool olev info on pärit tootja kodulehelt
Tehnilised andmed:en_ART_310-A MKIII spec sheet
ART 310-A MK III
ACTIVE TWO-WAY SPEAKER
ART 310-A MK III
ART 310-A is a 10" reference speaker.
Thanks to its incredible amplifier's power, the high quality transducers and very compact size cabinet, it is the ideal speaker in all the situations where the output of a PA system and the size of a monitor are important.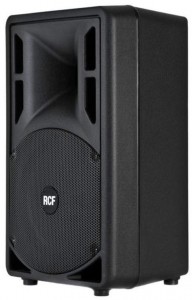 The 10" woofer features a 2.0" voice coil and delivers very high efficiency and controlled bass reproduction.
It can be used for live sound, playback, monitoring, corporate events and presentations.
The ART 310-A is very easy to transport everywhere.
Features
800 Watt Peak, 400 Watt RMS, bi-amplification
127 dB max spl
90 x 70, Wide dispersion constant directivity horn
10″ high power woofer 2.5″ voice coil
1″ HF driver, titanium dome, 1.5″ voice coil
Acoustical Specifications
Frequency Response -3 dB: 50 Hz ÷ 20000 Hz
Max SPL: 127 dB
Horizontal coverage angle: 90°
Vertical coverage angle: 70°
Compression Driver: 1″, 1.5″ v.c.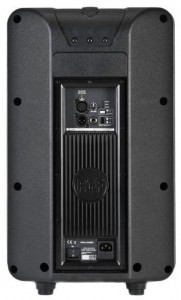 Woofer: 10″, 2.0″ v.c
Input/Output Section
Input signal: bal/unbal
Input connectors: xlr
Output connectors: xlr
Input sensitivity: 0 dBu
Mic. Input Sensitivity: -40
Processor Section
Crossover frequencies: 1800 Hz
Protections: DC / short cir.
Limiter: Fast limiter
Controls: Volume/EQ settings
Amplifier Specifications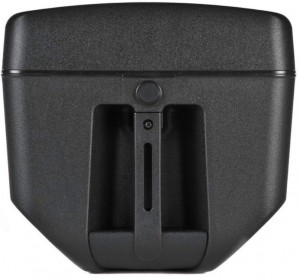 Total power: 800 W PEAK
High frequencies: 200 W PEAK
Low frequencies: 600 W PEAK
Total power: 400 W RMS
High frequencies: 100 W RMS
Low frequencies: 300 W RMS
Cooling: Convection
Connections: VDE connector in
Cabinet
Cabinet Material: Composite PP
Hardware: 2xM10 flying p.
Handles: 1 top
Pole Mount/Cap: Yes
Colour: Black
Physical Specifications
Height: 537 / 21.14 mm/inch
Width: 337 / 13.26 mm/inch
Depth: 315 / 12.40 mm/inch
Net Weight: 12.6 / 27.77 kg/lbs