Lavavalgusti (või ruumi värvimise valgusti) ADJ Dotz Flood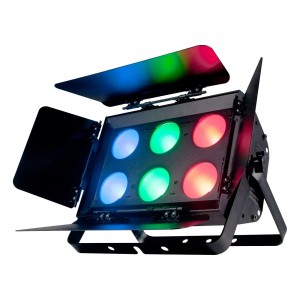 Antud seade võimaldab valgustada lavasid või värvida näiteks terve saali lagi mõnda tooni intensiivse värviga valgusega luues sel moel saalis piduliku miljöö ja tekitades tugeva värvifooni kogu ruumis. Tugev pidulik värvifoon on kena ballidel koos peegelkeraga, pidulikel õhtusöökidel, bändi esinemistel, pulmades ning muudel üritustel luues erilise õhkkonna. Seade sobib hästi ka diskodele, kuna sellele on sisse ehitatud mitmeid muusika järgi toimivaid programme ning pannes 2 või enam sellist seadet saali sünkroonis tööle, võimaldab see terve saali värvi muusika järgi muuta ning vilkuvaid strobo-efekte tekitada. Seadet saab hästi kasutada ka ürituse filmimisel, kuna seadme valge valguse toon on täpselt seadistatav ning ta ei tekita RGB varje.
Allpool olev info on pärit tootja kodulehelt: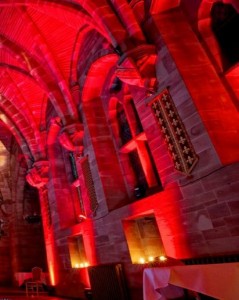 ADJ's Dotz Flood is a Wash/Blinder fixture with advanced COB LED technology allowing for a powerful LED engine to be placed in a small amount of space. The result is a high output, smooth color mixing fixture powered by six TRI COB LEDs  Dotz Flood is suitable for staging and nightclub lighting.
Dotz Flood includes barn doors to regulate the beam angle. The maximum beam angle is a wide 60 degrees. This fixture is compatible with the ADJ DF FC wireless foot controller with a wire-free range up to 30ft./10M.
The fixture has many pro features such as: 0-100%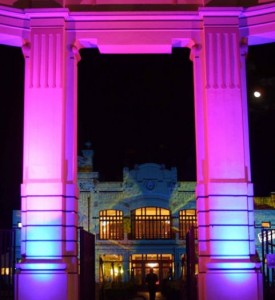 electronic dimming, strobe/pulse effect, built-in shows and colors macros, and a 4-button LCD DMX display. Dotz Flood may run in its stand-alone mode from built-in programs, sound actively, or from a DMX Controller. It's also compatible with the ADJ UC3 Series controllers.

Specifications
– Wash/Blinder fixture with six COB TRI LEDs (RGB: 3-IN1): 2 x 3 COB LED matrix panels
– COB Technology (Chip On Board) produces powerful, smooth RGB color mixing with rich palettes of color
– Includes barn doors to regulate beam angle
– Great for Stage Lighting, Bands or Night Clubs
– 6 DMX Channels: 1, 3, 4, 5, and two 9 channel modes
– 5 Operational modes: Auto (Show Run), Sound Active, Manual RGB Dimmer, Static Color, and DMX-512 Mode
– 12 Built-In Programs Shows
– 32 Built-In Color Macros (In DMX Mode Only)
– Flicker Free
– LED pulse and strobe effect
– Pixel mapping capable
– 60-degree beam angle
– Electronic Dimming: 0 – 100%
– Linkable via 3-pin XLR cable
– IEC AC IN/OUT on rear to daisy chain power (up to 5 Dotz Flood's @ 120V and 9 Dotz Flood's @ 230V )
– 4-button LCD display on rear panel
– Dual yoke system allows fixture to be hung or set on the ground
– Fan Cooled
– Light Source: 6x 30-Watt COB TRI LEDs (RGB: 3-IN1):
– Power Draw: 120W
– Compatible with American DJ UC3 Series easy-to-use controllers (sold Separately)
– Built-in RF antenna compatible with ADJ DF FC wireless RF foot controller, control up to 30 ft./ 10M wirelessly (sold separately)
– Multi-voltage Operation: AC 100V/60Hz – 240V/50Hz
– Dimensions (LxWxH): 394x318x196mm
– Weight: 7.2 kg