LED flat PAR prožektor ADJ Mega QA Par38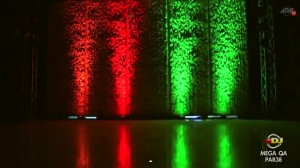 Tegu on väga kompaktsete kuid suure valgusjõuga LED prožektoritega, mille abil saali seinu või lava tagaseina valgusega värvida, luua saalile pidulikku värvilist valgusfooni ning kasutada neid tantsupõranda valgusdekoratsiooniks pannes need seadmed muusika järgi värvi vahetama.
Allolev info on pärit tootja kodulehelt
Lisainfo:mega_qa_par38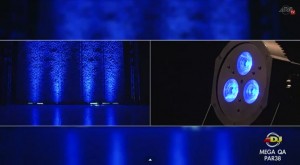 The ADJ Mega QA Par38 is a small and compact, low profile par designed for wall washing, uplighting or stage lighting and will bring color and excitement to any party. This wash fixture is intelligently designed so that it may sit directly on the ground or inside truss (even fits into DT-23 or DT-24 Truss) without the hanging bracket because the power & DMX Ins and Outs sit on the side of the fixture, not on the rear.
The Mega QA Par38 is powered by 3x 5-Watt, Quad 4-IN-1 LEDs (RGBA – Red, Green, Blue & Amber) for smooth color mixing, has a 25-degree beam angle, and offers 6 DMX Channel modes for a variety of programming options. Users control this fixture via it's own sound active internal programs, a DMX Controller or use the ADJ LED RC 2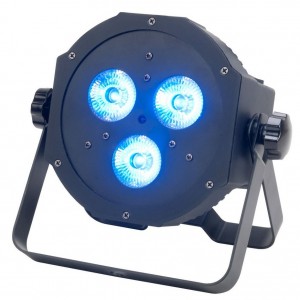 wireless remote (sold separately).
Specifications:
– Ultra bright flat Par 38 wash fixture with 3x 5W Quad 4-IN-1 LEDs
– Smooth RGBA (Red, Green, Blue & Amber) color mixing (fast or slow color change operation)
– Intelligently designed power & DMX Ins/Outs sit sideways so the unit can be set flat on the ground or set
inside truss
– Great as an architectural wall wash or for performance stages where traditional stage lighting emit a lot of heat onto performers
– 8 DMX Channels: 1, 2, 3, 4, 5, 6, 7 or 8 channel
– 6 Operational modes: Auto mode and sound active feature with built-in programs
– Stand Alone or Master/Slave Configuration
– Beam Angle: 25 degrees
– 4-Button DMX LED Display
– 16 built-in Color Macros
– DMX-512 protocol
– LED Pulse and strobe effect
– Linkable via 3-pin XLR cable
– Electronic Dimming: 0-100%
– Includes dual mounting brackets (Scissor Yoke) to hang on truss, mount on a wall or set on the ground
– Long Life LEDs (50,000 hrs.)
– Power Draw: 20W Max
– IEC AC input and output on rear to daisy chain power (Up to 30 Mega QA Par38's)
– Compatible with ADJ LED RC 2 wireless infrared remote control up to 30 ft./ 10M
– Multi-voltage operation: AC 100V-240V 50/60Hz
– Dimensions (LxWxH): 202 x 195 x 92mm
– Weight: 1.1 kg.