Valgusefekt ADJ Micro Moon
Allpool olev info on pärit tootja kodulehelt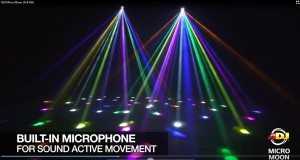 Lisainfo: micro-moon
The ADJ Micro Moon, part of the Micro LED Series, is a plug and play Moonflower with multi-colored beams that move back-and-forth to the sound of music. With it's low power consumption, long life LED source, and it's ease of use, the Micro Moon is a great effect that brings pure lighting excitement to parties, karaoke events, small bars and clubs, and for home use.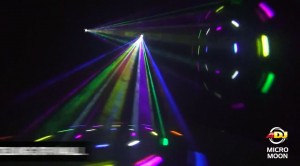 Specifications:
– Moonflower with 28 multi-colored, dichroic beams
– 3-Watt Bright White LED (20,000 hr. rated)
– FX Knob: Static or clockwise and counterclockwise rotation
– Built-in microphone for Sound Active movement
– Runs extremely cool! – NO Duty Cycles! – Run all night!
– Includes hanging bracket
– Power Consumption: 10W maximum
– Multi-voltage Operation: AC: 100 – 240V, 50/60Hz
– Dimensions (LxWxH): 195 x 165 x 134mm
– Weight: 0.65 kg.